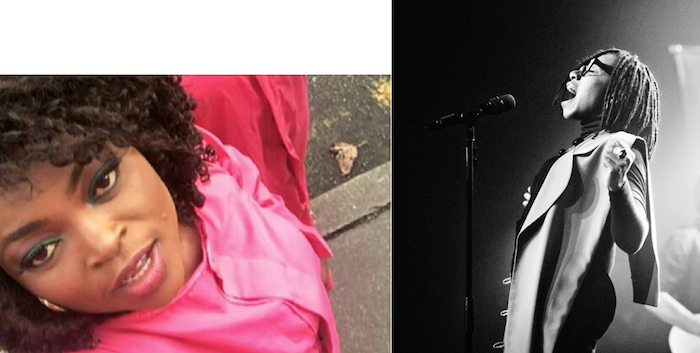 The entertainment industry in Nigeria has come a long way and one of the prominent features of Nigerian celebrities is showing off their wealth to their fans who cant get enough of the lavish lifestyle of these a-list celebrities.
Entertainment basically involves showing off, but some celebrities don't even flaunt their wealth like the bulk of the rest do.
Today, truecelebmedia take a look at some a-list celebrities whom we know are wealthy and have what it takes to show off on social media but would rather stay subtle and let their music or art be the only thing that fascinates their fans
Here's our list of celebrities who rarely show off on social media.
1. Asa
Bukola Elemide popularly known by her stage name, Asa is that one celebrity singer who loves to keep it low.
While she does great music and one of the few Nigerian celebrities signed to a foreign owned label yet have relevance both on the local and international scene.
Asa has performed at several sold out tours around the globe and has every right to flaunt wealth but she doesn't.
The singer is so lowkey that we barely knew a lot about her until this year when she started sharing photos of herself.
2. Naeto C
Naetochukwu Chikwe, stage name Naeto C, is a Nigerian rapper, Afrobeat artist and record producer. He was born in Houston, Texas and is of Nigerian origin.
Talk about an artist that was born into wealth and still went ahead to make a name for himself, then you're talking about Naeto C. The singer who is worth several millions rarely shows off his wealth.
The rapper is the first Nigerian MC to have a Masters Degree.
3. Femi Kuti
Femi Kuti is the son of Afrobeat legend, Fela Anikulapo-Kuti and has gone to make a name for himself in the entertainment world by being one of the most popular Afro-beats artist on the planet today.
Femi Kuti is one of the most simple celebrities we know today. He has travelled on tour alongside his full band to several countries where he has thrilled Afro-beat lovers.
The singer still performs at The New Afrika Shrine and is commonly spotted having a raport with his fans who are more of people who are very poor. Althogh, he is worth millions, he rarely flaunts his wealth.
Dbanj
Dbanj is arguable the richest Nigeria artist, and also one of the Top3 in Africa, he is regarded now as International artists, due to his Most famous hit song Oliver-twist, which opened doors to other Nigerian artist to the world big stage, He worth's million of Naira yet he didn't have a single tattoo on his body.
4. 2Face Idibia
2Face Idibia is one of Nigeria's biggest music export, yet he is the most humble celebrities we've known so far. 2Face Idibia has made millions from his music and label, Hypertek.
The superstar despite his wealth and massive earnings, he doesn't even show off at all and is so down to earth as well. He is also a philanthropist and has done a number of notable charity works.
It can be recalled that he recently chastised celebrities who love to flaunt their wealth on social media.
5. M.I
M.I Abaga is definitely the richest rapper in the country today. But a lot of people wouldn't know that if he didn't show off his automobiles. But beside showing off his car, M.I rarely flaunts expensive stuffs like other celebrities.
The Choc City boss knows how to keep his lifestyle on the low which made it hard for a lot of people to believe he's the richest Nigerian rapper. All in all, he doesn't love to show off much.
6. 9ice
Abolore Akande popularly known by his stage name, 9ice is that one singer who might have a loud mouth and call out people where he deems necessary but showing off isn't one of his qualities.
The singer who recently delved into politics but didn't go far with that also keeps a low profile about his worth.
The singer has also performed at sold out concerts and was even one of the acts to perform at Nelson Mandela's concert held in the U.K.
7. Funke Akindele
Funke Akindele is one of the richest actress in the country today as she continues to produce her own movies and also act in them too. She is also the most hilarious female movie character we've ever seen in recent times.
The beautiful actress loves to keep her profile low as she doesn't show off her wealth despite having several endorsements which are worth millions of Naira.
8. DJ Jimmy Jatt
DJ Jimmy Jatt is Africa's no. 1 Disc Jokey according to the last DJ competition held on the continent back in the 90s.
Jimmy Jatt is that one veteran who continues to stay relevant and the only DJ to have his own show that brings together all the top names in the country to perform.
The Jimmy Jatt is one of the highest paid around but still doesn't show off his wealth at all.
9. Banky W
Olubankole Wellington, known under the stage name Banky W, is a Nigerian R&B artist. Besides just being an artist, he is also a record label executive and has made millions for himself and his label since he kick-started in the country after relocating to Nigeria.
He has had the pleasure of mentoring Wizkid, Skales and also made tons of cash while both acts were still signed to the label.
Despite being rated as one of the top richest in the game, the singer just loves to keep a low profile as he doesn't flaunt tons of cash or his several cars which we know will run into millions.
10. Kate Henshaw
Kate Henshaw is one of the longest serving Nollywood actress who maintains her relevance and hasn't stopped being one of the top acts.
Before a fire incident destroyed her Lekki home, the actress didn't show off her wealth at any time and loves to keep it subtle.
She is estimated to be worth millions but yet has always kept a low profile.